During LFW my friends and I had the chance to check out the fantastic Lady Gaga at the SuperSuper Fashion Week party held at Punk in Soho. We got sneaked in the back door by the record label (swish or what) as the queue went all the way on to Oxford Street. The crowd were very fashion with Niyi on the decks, lots of Lady Gaga fans were eagerly awaiting her in front of the stage, two boys in particular stood in the front row dressed only in blue Speedos and a body full of glitter.




When New York's finest Lady Gaga took to the stage she was wearing a full latex body suit, gold and black homemade snood and Margiela jacket. Her glasses were the piece de resistance, made by a guy from Nasa, the lenses were hooked up to an iPod and flashed up 'Ga Ga' when she came onstage.




Accompanied by two very bendy dancers, the show lasted around 20 minutes and by the end I was totally in love with the Lady herself. I predict big things for Gaga, who has already scored number ones across the world and written pop songs for Britney. Her songs Paparazzi, Just Dance and Dirty Rich are really catchy and danceable.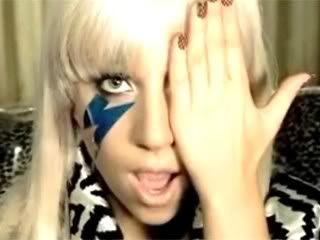 After the show i was lucky enough to meet Lady Gaga (see grainy pictures below), she commented on my tartan trousers and we talked Margiela, snoods and about her collection of designer glasses.




Lady Gaga had just shot a feature for Wound magazine, cant wait to see how it looks, check out her MySpace
Long live Lady Gaga.